There is still uncertainty about the date of Dalí's first sculptural work. Dalí's authorship of some of the works from the early 1920s, which are still being studied, is as yet unconfirmed. These pictorial interventions in decorative objects require further investigation before Dalí's authorship can be firmly established.
However, it is not until the beginning of the 1930s that a first phase of authentic sculptural production can be defined. In 1931 Dalí published an article in Le surréalisme au service de la révolution entitled 'Objets surréalistes'[1] which became a manifesto of the new possibilities of the oneiric object proposed by André Breton. Dalí theorized six different categories of surrealist objects and presented his Object Functioning Symbolically, along with others by Alberto Giacometti, Valentine Hugo, André Breton and Gala Éluard. These creations, notable for their symbolic and fetishistic character, define Dalí's sculptural work between 1931 and 1936, and can be seen as endorsing the theory of the liberation of the unconscious in the paranoiac-critical method, which the artist begins to develop in the essay entitled 'The Rotting Donkey', published in 1930 in La Femme visible[2].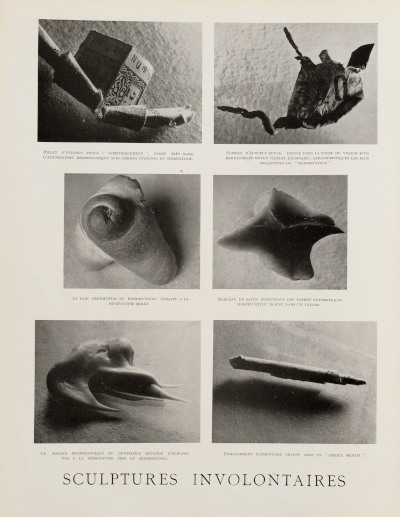 During this period Dalí wrote several texts on the theory of the object in all its variants. He first mentioned 'superrealist' objects in an article in L'Amic de les Arts[3] in 1929, and subsequently referred to it in numerous sculptural works and objects, as well as publishing texts on the subject, notably 'The Object as Revealed in Surrealist Experiment'[4] (1932), 'Objets psycho-atmosphériques-anamorphiques'[5] (1933) and 'Honneur à l'objet !'[6] (1936).
These years are also notable for another very specific type of sculptural work, the object-sculpture. Dalí identified his surrealist object Retrospective Bust of a Woman, created in 1933, as an object-sculpture in the book La Conquête de l'irrationnel[7]. Despite the anomalies in conceptual and technical details, works of this type can be regarded as assemblages of found objects or non-traditional art objects.
Dalí was also involved in the creation of works that constitute new conceptual challenges at the artistic level, such as the involuntary sculptures, made in collaboration with the photographer Brassaï and presented in the magazine Minotaure[8] in 1933. These works are the result of an act of automatic creation, in which the malleability of the subject and the photographic image are the two essential processes. They also attest to the importance that Dalí gave to photography in the process of artistic creation, as he himself emphasizes in an article published in Gaseta de les Arts in 1929: 'the mere donnée of photographic transposition already means a total invention.'[9]
It is also interesting to note that between 1933 and 1936 Dalí dedicated himself with particular intensity to the creation of plaster sculptures. No doubt the best-known of these is the famous Venus de Milo with Drawers of 1936, now in The Art Institute of Chicago, but Dalí used the same material in a number of other works. Various photographs in the Centre for Dalinian Studies show Dalí working on plaster sculptures at Portlligat in 1933. In some cases he carried out pictorial interventions in plaster sculptures by other authors, and these works, which have been classified in the category of manipulated sculpture, include the 1933-1934 bust of Joella Lloyd, now in the Museo Nacional Centro de Arte Reina Sofía in Madrid.
This first chronological section also includes other categories of sculptural work. On the one hand there are some special objects such as Babaouo, created in 1932 and preserved in the Tower of All the Enigmas at the Dalí Theatre-Museum in Figueres, and The Little Theatre of 1934, now at MoMA in New York, and on the other hand there are various installations that are known to us only from contemporaneous photographs.
With regard to creative process, it should be noted that this first stage is remarkable above all for unique original works, a category that includes a number of unique original works with versions - that is to say, works modified by Dalí himself after their first exhibition, which he then showed with new elements on each subsequent occasion. Each of these new presentations has been identified as a unique original version. The most paradigmatic instance of this is the Retrospective Bust of a Woman, presented for the first time at gallery Pierre Colle in Paris in 1933 and subsequently modified by Dalí from 1934 in a series of new versions which are documented until 1939.
This first section of works dated until 1936 thus also includes these later versions by virtue of their association with the creation of the unique original work from 1933.