Cartell
(Poster)
Poster for the Fair of the Holy Cross, 1921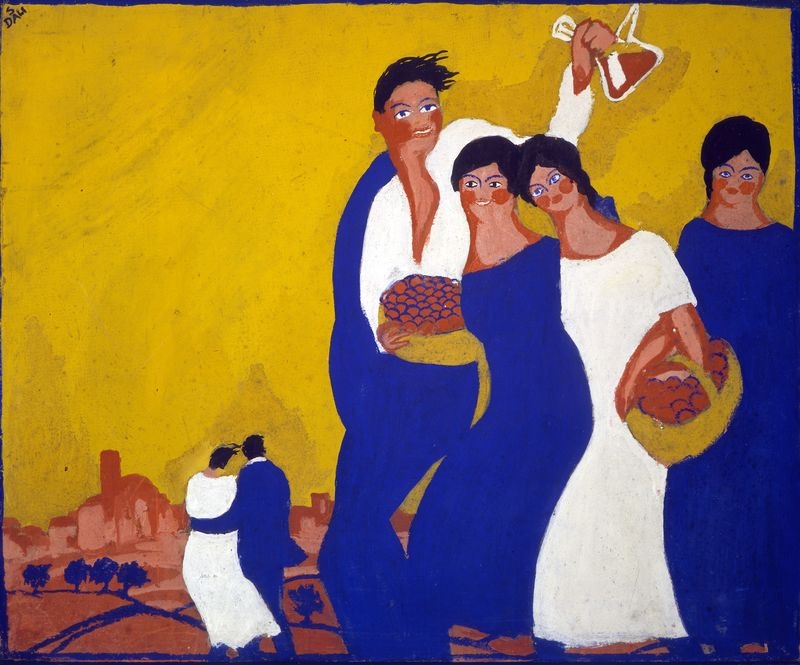 Cat. no. P 355
Cartell
(Poster)
Poster for the Fair of the Holy Cross, 1921
Description
Date:

Technique:

Gouache on paper

Dimensions:

52 x 64 cm


Signature:

Signed upper left corner: S/DALI

Location:
Provenance
Domingo Carles, Barcelona
Galeria Maragall, Barcelone
E. and A. Reynolds Morse, Cleveland (Ohio)
Observations
Original for the Fair of the Holy Cross programme-poster from 1st to 8th May, 1921.
Exhibitions
1922, Figueres, Casino Menestral, Exposició d'artistes empordanesos, 02/07/1922 - 16/07/1922, cat. no. 22
1965, New York, Gallery of Modern Art, Salvador Dalí, 1910-1965, 18/12/1965 - 13/03/1966, addendum p. 5
2009, Melbourne, National Gallery of Victoria, Salvador Dalí : liquid desire, 13/06/2009 - 04/10/2009, no reference
Bibliography
A. Oriol Anguera, Salvador Dalí, Cobalto, Barcelona, 1948, p. III
A. Reynolds Morse, A new introduction to Salvador Dalí, Reynolds Morse, Cleveland, 1960, p. 85
Max Gérard, Dalí de Draeger, Blume, Barcelona, 1968, il. 184 (detail)
The Draftsmanship of Salvador Dalí, a portfolio of watercolors and drawings, The Salvador Dali Museum, Cleveland [Ohio], 1970, p. 57
Maria Isabel Hernando, "Salvador Dalí", Los Protagonistas de la historia, 31/12/1970, Madrid, n. p.
Salvador Dalí, Les Vins de Gala, Draeger, Paris, 1977, p. 251 (detail)
Dalí: the Salvador Dalí museum collection, Bulfinch, Boston. Toronto. London, 1991, il. 135
Salvador Dalí: the early years, South Bank Centre, [London], 1994, p. 131
Les Essentiels de l'art Dalí, Ludion, Amsterdam, 2003, p. 26
The Portable Dalí, Universe, New York, 2003, p. 26
El País de Dalí, Consorci del Museu de l'Empordà, Figueres, 2004, p. 111 (indirect image)
Salvador Dalí : liquid desire, National Gallery of Victoria, Fundació Gala- Salvador Dalí, The Salvador Dalí Museum, Melbourne, Figueres, St. Petersburg (Florida), 2009, p. 56
Salvador Dalí, Yomiuri Shimbun, Culture Promotion Department, Tokyo, 2016, p. 57
Reproduction Rights
The copyright on Salvador Dalí's works, included those that are reproduced in this Web page, is held by the Spanish State and has been granted in exclusivity to the Fundació Gala-Salvador Dalí.
Pursuant to intellectual property laws in force, the total or partial reproduction, distribution, transformation, public communication, interactively making available to the public, as well as any other exploitation, by any means, of the works included in this Web page is prohibited.
Any exploitation of Salvador Dalí's works is subject to the prior application and clearance of the relevant licence issued by VEGAP (tel. 91 532 66 32 and 93 201 03 31 ; www.vegap.es). Copyright infringement will be prosecuted according to Laws.