Explosion of Mystical Faith in the Midst of a Cathedral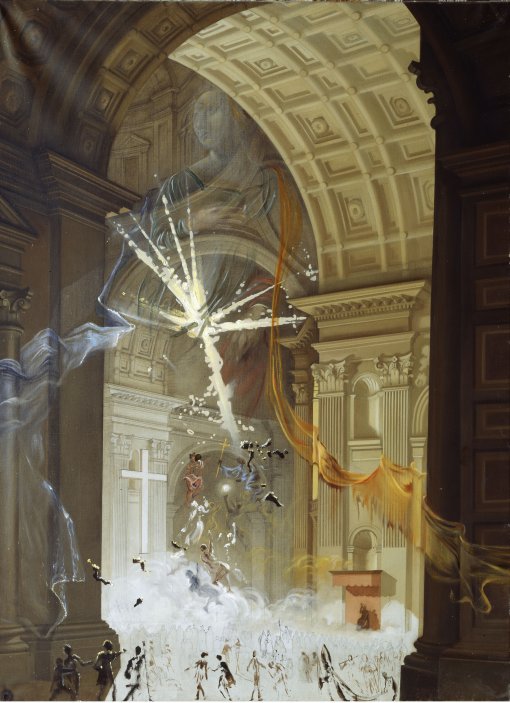 Artworks by Raphael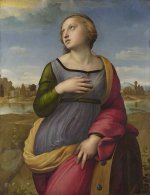 More Info about the Artwork
About the Artwork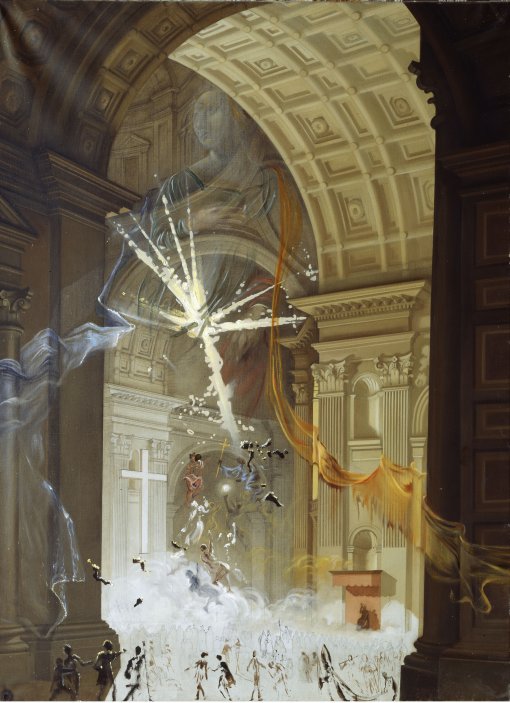 Title

Explosion of Mystical Faith in the Midst of a Cathedral

Author

Salvador Dalí

Cat. no.

752

Date

1959-1974

Technique

Oil on canvas

Dimensions

225 x 163 cm
Go to the technical Data
Center for Dalinian Studies & Conservation and Restoration Department
Untitled. Saint Peter's Basilica. Explosion of Mystical Faith in the Midst of a Cathedral is one of the most hidden-away, little-known works in the Dalí Theatre-Museum, situated as it is under the dome. Dalí presented it in or around 1974, when the museum first opened its doors to the public, but until then it had been in his studio at Portlligat for almost fifteen years.
The painting, which is part of the installation created by Dalí for the Twisted Christ, is placed so that it cannot be seen directly, but only reflected in a mirror. The very large canvas depicts the basilica of St. Peter's in the Vatican, in which hovers the nebulous figure of a virgin saint that essentially the same as the central figure in The Ascension of Saint Cecilia. In this sense the painting is a good example of Dalí's tendency to reinterpret certain subjects over the years - in this case, Raphael's Saint Catherine of Alexandria. Dalí's extant pencil drawing of the face of the saint on a was made by marking a grid on a transparent plastic sheet and placing it over a reproduction of Saint Catherine of Alexandria in a book on Raphael.
The lower central section of the canvas, which features a procession, is unfinished. Dalí probably based this ceremonial communion, in which we can see a likeness of Gala, on photographs of masses held in St. Peter's in the Vatican which he found in illustrated magazines.
The composition is harmonious and balanced, with an aerial perspective of considerable depth emphasized by the light of the central nave of the basilica, in which the basic colours of the figure - red, blue, green and yellow - are reminiscent of those of Dalí's Saint Cecilia and of Raphael's Saint Catherine. What stands out above all is the central explosion of white and yellow light, the point that attracts our attention in the mirror concealed behind the altar under the dome of the Theatre-Museum.